Techniques to brave the cold
We know how the weather can play tricks on us. In winter, freezing temperatures are not so rare. For anyone sensitive to the cold, it's time to put on their warmest clothes and hope they don't get too cold. However, did you know that there are better techniques to make sure you don't freeze when you step outside? Among them, we find the principle of onions skins, the importance of wearing a beanie outside and, the principle of warming up your extremities.
Indeed, a much popular one is the multi-layer technique also called the principle of onion peels. This way, you can remove or add layers of clothing depending on the temperature. The first layer should be very close to the body. The use of thermal clothing is an example. Then a second layer of long sleeves will keep you warm. A fleece jacket would be perfect for this step. Finally, a windbreaker or a waterproof jacket is perfect as a third layer. Of course, you can add or remove layers if you feel the need. This way, the layers of air between the different clothes will help you keep warm with their insulating properties! You can store extra clothes in the BPK 5764 "Copper" adult backpack, which has several pockets and a capacity of 72 liters.
With this bag, you'll be ready to face all possible temperature variations!
Then, when you go outside, it is essential to put a beanie on! Did you know that the head lets out a large part of our body heat when it is not adequately protected? Many people ignore this detail and consider the beanie as an accessory. Therefore, it is an essential for your outings! So' it's time to pull out your beanie collection to be prepared to fight the cold!
Finally, the extremities of our body are often the coldest parts of our body when it's freezing outside. Indeed, the cold slows down blood circulation, so out toes and fingers are the first victims, and it is far from pleasant! On your feet, you can put on insulating socks made for cols temperatures. Choosing good mittens made of thicker fabrics will be more than adequate when it comes to outdoor fun. You can also add hand warmers, toe warmers, heated soles or body warmers for optimum comfort. They will add warmth to your extremities. You can easily slip them into one of your BPK 5764 "Copper" adult backpack to bring them with you anywhere!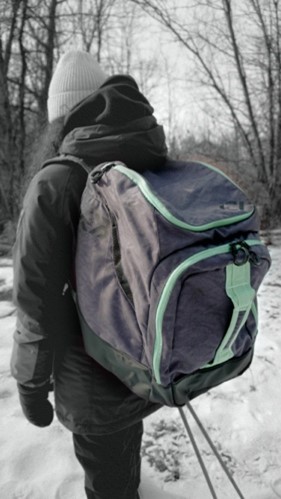 With the use of these techniques, you will be a courageous fighter of winter temperatures!